The Story
By: Clare Dingwall – Polo for Heroes Event Organiser
How it all began:
We were all lucky enough to attend the superb Chefs for Heroes dinner at the London Guild Hall in October of 2009 and enjoyed each others company during the meal.
As the evening progressed it became apparent to us that we all have a duty to the service men and women, no matter what our political views, who on a daily basis put their lives on the line for our country.
After hearing stories from those who have been wounded in current conflict which were both incredibly eye opening and humbling, our conversation turned to what could WE do to help?
Tristan Welch has the ability to cook amazing food, the members of St Albans Polo Club and Clare share a passion for polo and play the sport, so what better than a gastronomic polo tournament to raise funds for such a worthy cause?!
Now all we had to do was give up some time and make it happen.
So the simple idea was to invite people to join us and "Make a Difference!".
As well as representatives from the Armed Forces Polo we had celebrity Polo players on the day. One team was captained by former World Boxing Champion, Steve Collins, polo enthusiast. The first year the other team was captained by Kenney Jones of Hurtwood Polo Club, former drummer with The Small Faces, The Who and now The Jones Gang.
How Polo for Heroes has progressed:
After the success of Polo for Heroes 2010 we decided to make it an annual event.
2011 proved to raise even more and we were lucky enough to have The Gaucho Grill providing a delicious barbecue lunch.
In 2012 Tristan moved to Sweden so handed the reins to Professional Masterchef winner, Steve Groves. He was joined in the kitchen by fellow Masterchefs Dhruv Baker and Andrew Kojima.
We were also offered a fantastic opportunity in 2012. Marketing City Group & Wishango from the United Kingdom and the US company – Incentives by Design offered us the chance to take 24 injured Heroes for a trip of a lifetime to Las Vegas!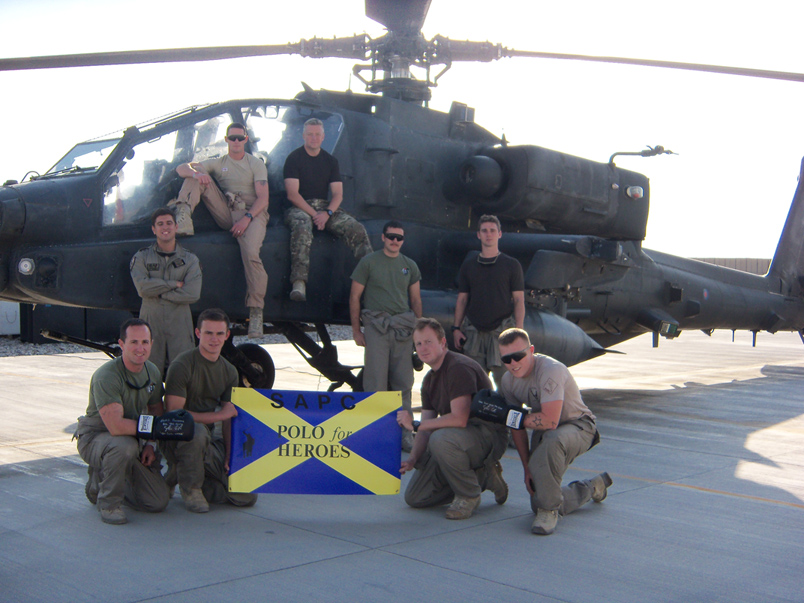 The idea actually came about from our donors watching the Sun Military Awards which, provided special experiences to servicemen and women after they have served and sacrificed for their country.
This was an offer not to be refused. We contacted Help for Heroes, Band of Brothers and The Irish Guards Appeal Fund to take up the chance to send some of their worthy Heroes! Polo for Heroes funded the flights for the injured service personnel and many other sponsors contributed to the overall event.
The trip in April 2012 was spectacular! The Bellagio Hotel and American public welcomed our injured troops like the true Heroes they are, raising their moral through the roof and making them feel truly valued for what they have done.
The event was hosted by boxing legend, Steve Collins. It was red carpet treatment all the way. The Gala Dinner provided entertainment from, amongst others, Elvis, Sinatra and Streisand. The Native American Indian Hualapai Tribe, in the Grand Canyon honoured our braves with an incredibly moving ceremony and 21 gun salute. We even made it onto Colorado Breakfast TV!
This was the start of "Heroes and Legends" which is now known as "Heroes for Freedom" and  the 2016 event is already planned!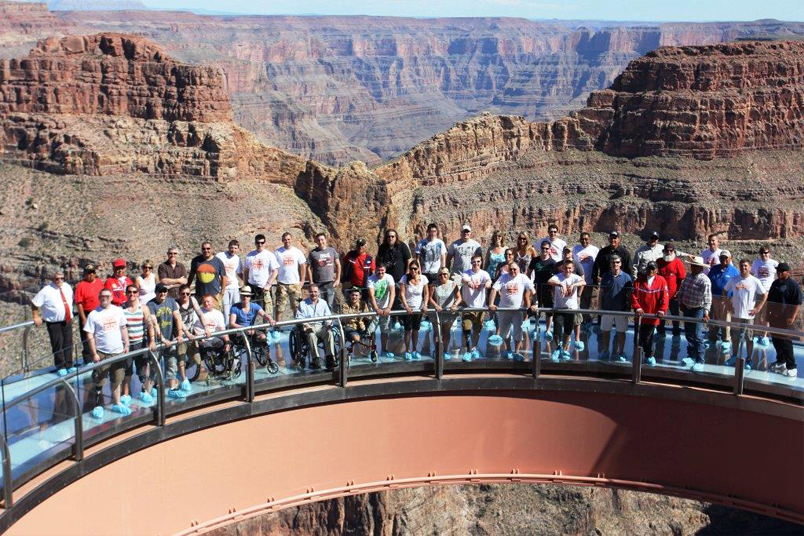 Some words from  a Sponsor:
I miss you guys already. I'm not the same person. I can't quite relate to my normal job anymore. In speaking to some of the boys on the journey back to the airport, the overall consensus was that their week in Las Vegas gave them a new will for life. It gave them back the spark that was so horribly smothered when they were injured. We couldn't make their bodies whole again but we did fill their hearts with love and admiration and they will always have these memories to look back on. Thank you so much for allowing us to participate in this incredible event. Leora
And a Soldier:
I just want to email you to say a massive massive thank you and to express how truly grateful I am of the whole experience, it was a whole load of life experiences thrown into one week, I can not say enough thank you's for what you and the team have done from all the planning behind the scenes to the delivery. Words cannot express how lucky and happy I was from the whole experience. Thank you so much. Ben
This brings us to 2014 & 2015 events where we continued to support Help for Heroes and The Irish Guards Appeal Fund. But, also specifically fund raising to finance yet another trip for more injured service personnel to Las Vegas in May 2016. The benefit received from the previous trips was beyond all our hopes. A comment that stood out above all others was, "This has given me the time and support I needed to deal with the demons inside my head."
If you would like to have the privilege of joining in and spending time with these brave Heroes in Las Vegas please contact us. It could change your life!
Look forward to seeing you at the event!
Clare