Our Last Trips – 2012 & 2014
Heroes & Legends Las Vegas, In association with Help for Heroes Band of Brothers
20th to 26th April 2012
It was a trip of a lifetime, 5 nights in Las Vegas for 24 Heroes and 12 sponsors and hosts.
Here's how the British media reported the event:-
BRITISH war heroes wounded in Afghanistan have been honoured for their bravery in battle by a tribe of Native American Indians.
A group of injured servicemen – many of whom lost limbs fighting the Taliban – had their wounds brushed with a sacred healing feather and were given a 21-gun salute during a unique ceremony at the Grand Canyon.
Elders of the ancient Hualapai tribe told our heroes: "We are warriors who fought for our freedom. You are warriors too."
Our brave boys were presented with flags and a special tribal dance before posing for photos with their fellow braves on the famous Sky Walk platform, 4,000ft above the Colorado River.
Private Alex Stringer, 21 – who lost three limbs in an IED blast in Helmand Province – was among the group, which included guardsmen Colum McGeown, 28, and Daniel Gill, 24, both of whom lost their lower limbs.
The group later attended a gala dinner with members of the US armed forces at The Bellagio in Las Vegas.
British Army Captain Andy Haines, the senior UK military representative on the trip, said: "It has been an honour and a humbling experience."
"The American veterans and the civilian population welcomed us everywhere we went."
"I can only express how proud I am of all the soldiers, Royal Marines and Royal Navy personnel. They've suffered extreme pain in their lives yet they were happy and relaxed."
Gary Doggett of Marketing City Group and Wishango, added: "These young men are a credit to their country."
Polo for Heroes were proud to be one of the sponsors of this event.
The Sun – April 27
Heroes for Freedom Las Vegas 2014, in association with Help for Heroes Band of Brothers
26th April to 1st May 2014
We did it again! 4 nights in Las Vegas for 15 Heroes and 15 sponsors and hosts.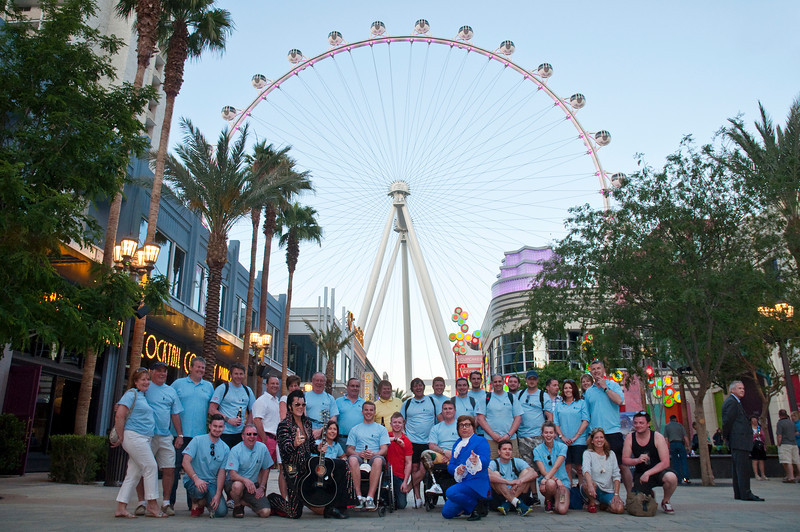 Click here to view the photos!